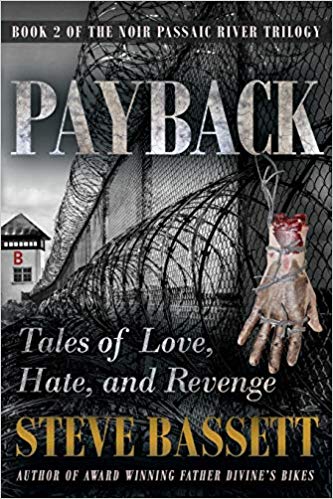 Steve Bassett was born, raised and educated in New Jersey, and, although far removed during a career as a multiple award-winning journalist, he has always been proud of the sobriquet, Jersey Guy. He has written for several publications, including the Pulitzer Prize winning Salt Lake Tribune. He's worked for the Associated Press, where his exposés gained national recognition, and CBS television news in Los Angeles, earning three Emmy Awards for his investigative documentaries.
His book, "Golden Ghetto: How the Americans and French Fell In and Out of Love During the Cold War," was published in 2013. "Father Divine's Bikes," Book One in his Passaic River Trilogy was published in 2018. "Payback: Tales of Love, Hate and Revenge," is the second novel in the trilogy continuing the historical noir crime drama surrounding Newark, NJ in the post WWII era.
TOPICS OF CONVERSATION:
- About "Payback – Tales of Love, Hate, and Revenge" and the Inspiration Behind the Story
- The German-American Bund and the Minutemen
- Redlining then and now – and other parallels in the story to current events
- Personal Interest – on owning a 600 year-old property in Central France and the differences between French and American Culture
Payback – Tales of Love, Hate and Revenge, the second book of the Passaic River Trilogy, is a drama so intense that it would be improbable anywhere but 1946 Newark. Across the country millions were dealing with the loss of loved ones, and horrible memories were being buried for the greater good. But not in Newark. Two mutilated bodies were pulled from the putrid Passaic River, and the sawed-off arm of a third man was found neatly wrapped and tied at the city dump. The three victims were members of the German-American Bund, Hitler lovers who had to pay the price for supporting a murderous madman. Someone was sending a message that only revenge could clear the mind and free the soul.
CONNECT WITH STEVE BASSETT!
Website: https://stevebassettworld.com/
Facebook: https://www.facebook.com/stevebassettworld/
Twitter: https://mobile.twitter.com/SteveBassett19
Instagram: https://www.instagram.com/stevebassettauthor