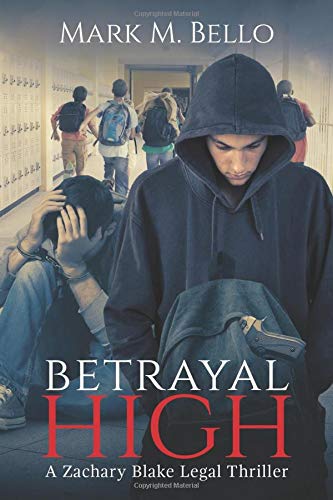 As an attorney and civil justice advocate, author Mark M. Bello draws upon over 40 years of courtroom experience in his Zachary Blake Legal Thriller Series.
A Michigan native, Mark received his B.A. in English Literature from Oakland University and his law degree from Thomas M. Cooley Law School. After working extremely high profile legal cases, Mark wanted to give the public a front-row glimpse of what victims face when standing up for justice.
Combining his legal experience and passion for justice with a creative writing style, Mark not only brings high-quality legal services to his clients but captivating novels to his readers.
When Mark's not writing legal and political novels, he writes and posts about fairness and justice in the civil justice system on his website, Legal Examiner and Injury Board. In his spare time, Mark enjoys traveling and spending time with his family. Mark and his wife, Tobye, have four children and 8 grandchildren.
Learn more about Mark and his work by visiting his website at www.markmbello.com.
Just a few of the topics of conversation:
School shootings and the root causes
Using an author platform to get the news out about relevant social justice issues
The Zachary Blake Legal Thriller Series
BETRAYAL HIGH


What does a kid do when it just won't stop? Kevin Burns has had enough. Today, the bullying stops. Today, he has easy access to his father's gun cabinet. Today, Kevin exacts his revenge.
Bloomfield, Michigan, an affluent Detroit area suburb, is home to trial lawyer Zachary Blake. Other school districts envy Bloomfield, that is, until Kevin Burns commits shocking, all too familiar, acts of senseless violence. In the aftermath of the tragedy, everyone wonders 'why?'.
Zack Blake seeks answers, justice for the victims, including his own son. How does a kid get a cache of weapons?
In Betrayal High, a Zachary Blake legal thriller, award-winning author/attorney Mark M. Bello answers these questions and more in this fifth installment of what many readers are calling the country's best courtroom drama series. Prepare to get Betrayed . . . again.
CONNECT WITH MARK M. BELLO!
Website: https://www.markmbello.com
Facebook: @markmbellobooks
Twitter: @markmbello
Instagram: @markmbellobooks
 Mark's books can be found on his website, Amazon, Goodreads, and all other online retailers. The books are available for reader, in print, or as audiobooks.